VPP4ISLANDS has participated in BRIDGE Events and WGs from 2nd to 4th March 2021 Intermediate result from our participation in the WGs
RDIUP and ALGOWATT have participated in the public WEBINAR Flexibility 2.1 : From Demand Response to Renewable Energy Communities. March 15, 2021
"TROYA, UEDAS and INAVITAS have, virtually, a success" Interview with GUNDER.
TROYA has attended the online Rescoop Annual Meeting : 22-24 April, 2021
Grado commune and CiviESCO have organized a VPP4ISLANDS conference in 20-07-2021
UEDAS, TROYA, INAVITAS and Bozcaada have organized a ceremony about the green energy in Gokçeada 
AMU has presented VPP4ISLANDS at the SEST conference 2021. Find the presentation HERE
TROYA, Algowatt and Formentera have organized a Virtual Energy Communities Workshop on 23-09-2021, see here the program EC_Workshop_Flyer
AlgoWatt has presented VPP4ISLANDS in Programma Green Salina Energy Days  from 9 to 12 September 2020
FTK has organized a SAPL Training session, Find here the program SAPL.IO Webinar #1
CIVIEsco, Gardo, Troya and Bornholms participated in CE4EUislands Forum programme 2022
AMU organized our first physical General Meeting from 16th to 18th May in Marseille, here the Agenda GA 2022.
VPP4ISLANDS hydrogen fuel cell hybrid storage system was presented in Brunel Conference
We are proud to announce that the #VPP4ISLANDS (virtual) kick-off meeting 💪 organized by coordinator AMU took place on 22 and 23 October. All partners were represented to make this great project successful.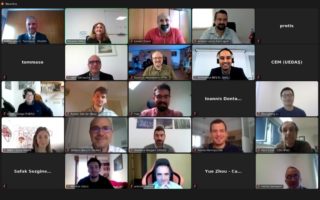 This video presents VPP4ISLANDS project 💪 and focuses mainly on the turkish leading Islands "Gökçeada" (UEDAS) that aims to test and validate the aggregation of grid flexibility ⚡
The Municipality of #Grado is a key Partner (Follower Island) of the Horizon 2020 project and is working for the definition, replication and experimentation of Virtual Energy Communities.
Already at #M10, after research; partnerships and efforts
arrives our first #General #Assembly
of the #H2020
#VPP4Islands
project chaired by #RICCIO Julia and #Seifeddine BEN ELGHALI from #AMU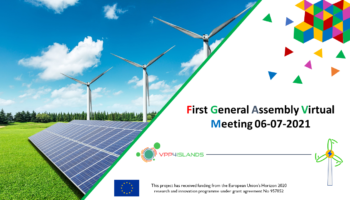 #Clean and #green💚 #energy🔋 in Gökçeada🇹🇷 Island is becoming reality thanks👏 to #VPP4ISLANDS🏝. This ceremony is organized by #UEDAS, #TROYA, #INAVITAS and #Bozcaada.
The funniest
and best backstage
moments of our Italian
conference in 20-07-2021, edited by our partners
GRADO and CIVIESCO in the VPP4Islands
H2020
project
A TEDx talk discussing also
VPP4islands
undertaking to discover how you can lower your
carbon footprint while saving money
  and energy
(and helping your country)!
In 2022 our
#Bornholm Island
was named as the
#greenest Island
in Europe by
#EC
. This short video
shows all the
#actions
#carried
out for a
#green energy
#transition
to meet its
#vision